In this article, we will be looking at the best resin 3D printers available online right now. We we'll look at a budget entry level option, mid-tier as well as high end professional models. Let's start with the entry level options.
Disclosure: This post contains affiliate links, we may earn advertising commissions for sharing products we know and love.
Budget Options (Under $600)
Our pick for the best budget resin 3D printer under $600 is the Elegoo Saturn 4K Mono. This model by Elegoo has easily become a runaway success in the high-quality budget category. This achievement comes down to one thing: insane value for a $500 resin-based large scale 3D printer.
The Saturn comes equipped with a 8.9" monochrome LCD and a generous 192*120*200mm build volume. The per-layer speed is nothing to scoff at either, with a quoted 2-3 seconds per layer that's claimed to be 60% faster than the Mars Pro model.
The UV array consists of a matrix light source of 54 UV LED lights (405 nm wavelength) with uniform light emission, resulting in accurate 3D prints despite its larger build volume. The build plate itself is mounted on the Z-Axis via a double lead screw to ensure sturdiness.
Connectivity is handled via both ethernet and USB. You can have it as a Local Area Network 3D printer – and USB for the more conventional 3D print experience.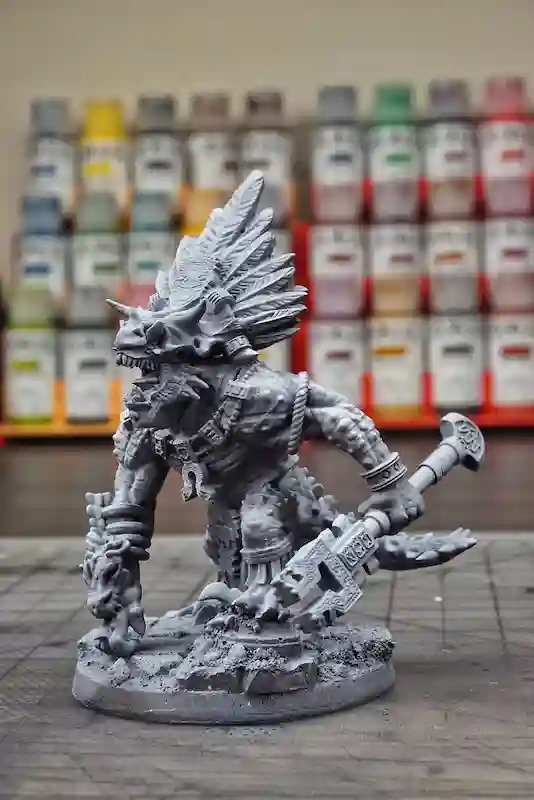 At $350, the Elegoo Mars 3 may not be the cheapest 4K small form-factor resin 3D printer, but just like its pricier much larger Saturn sibling, the Mars 3 is just improved enough upon its predecessor to ensure relevance in an increasingly competitive budget segment. The Elegoo Mars 3 takes all of what made the Mars 2 Pro great and applies much needed improvements that contribute to an overall more reliable, consistent, and easier 3D printing experience.
The Mars 3 boasts improved copper cooling for the UV lights as well as a new release film 2.0 that enables easier removal of the 3D print while at the same time reducing tension in the 3D print as the resin is cured via the UV lights.
Elegoo also tosses in a free 1-year trial of the ChituBox Pro Slicer. This means that, in a nutshell, if you are fine with the smaller build size, then the Mars 3 is a very good first-time resin 3D printer for jewelry, dental and miniature resin 3D prints. But its lack of major improvements over its predecessor does make it finish second as our Budget Pick.
Mid-Tier Options (under $2000)
The Prusa SL1S improves upon the original in nearly every way. But the single biggest improvement is what earns this resin 3D printer its 'S' moniker. The Prusa SL1S was designed by Prusa much the same way an extreme hyper-car would be designed – for speed.
The SL1S by Prusa's own claims, takes just 1.4 seconds per layer to 3D print. This usually means that it is at least 2.5 to 3 times as fast as the Original SL1. And at least twice as fast as basically every other resin MSLA 3D printer on the market.
Specs wise, the Prusa S1LS Speed sports a 5.96" monochrome 2K resolution LCD (good for 2000 hours of work by Prusa's estimates) equipped with custom optics and UV LED arrays underneath with a build volume of 127×80×150 mm. The Prusa also features a unique motorized tilting bed that is essential for the 3D printer's claim to the "Fastest" title.
Other goodies include ample connectivity (USB, Wi-Fi, Ethernet) as well as a carbon filtered cooling and exhaust system to minimize resin odor.
The SL1S is fully compatible with PrusaSlicer and also completely open-source (both hardware and software).
The Phrozen Sonic Mega 8K Resin 3D printer is Phrozen's vision of what a large format resin 3D printer should be. The Mega 8K Resin 3D printer comes equipped a 15" 8K monochrome LCD and a properly big 330 x 185 x 400 build volume (bigger than the standard Peopoly Phenom and Phenom Prime), making this one of the largest resin-based 3D printers you could buy.
That tack-sharp screen provides a pixel pitch of just 43 µm even at this huge size. What this means is that the Mega 8K's 3D prints are simply excellent in detail, and the large build volume ensures that one can take full advantage of the MSLA technology and parallel 3D printing capabilities for a large number of small items to occupy the build plate.
The Sonic Mega 8K also comes with a pre-calibrated build plate and numerous other convenient features. It is still, however, a hulking giant.
The Mega 8K's 3D print speeds are low even by resin-based 3D printer standards. That and the sheer size of this monstrosity makes it a hard sell for all but the targeted niche enthusiasts who want a high-quality large-format resin-based 3D printer for under $2,000.
High-end Options
Price: starts at $10,999.99 (basic), almost $20,000 with Form wash, Form cure and Standard resin kit plus shipping and taxes
Formlabs was the first high-end company to offer the original Form 1 at an "affordable" (at least back then) price of just of $3,299. And while the Form 1 has been succeeded by 2 newer models, the Form 3L is Formlabs' first foray into the large-format resin-based 3D printer market.
But like its smaller-sized sibling, the Form 3L supersizes everything Formlabs is known for: Customer support, reliability, consistency, and most of all 3D print quality.
The Form 3L does not use any LCD masking over UV LEDs and instead relies on Formlabs' in-house designed low-force stereolithography technology which allows for the Form 3L to produce consistent results of higher detail than ever possible with a minimum layer thickness of just 25 µm.
The Form 3L provides a build volume of 335 × 200 × 300 mm. It comes complete with a finishing kit and supports Formlabs' powerful Slicer software PreForm. As for connectivity, it supports Wi-Fi, Ethernet as well as USB.
If you or your business has the use for such a high-end precision rapid-prototyping machine, then make no mistake, the Form 3L is unequivocally the best option available.
Price: $7,499 plus shipping and taxes
Peopoly originally made a splash in the resin 3D printer market with their Moai SLA 3D printer DIY kit. Peopoly, then decided to upsize its splash with the Original Phenom defining what an affordable large-format MSLA 3D printer should be.
But just as there is no limit to the innovations possible in the world of 3D printing, so too there isn't a seeming limit on how big Peopoly's Phenom line can get. After the slightly larger L variant, Peopoly again upsized its Phenom offering to XXL. Offering a build volume hitherto unheard of in the world of MSLA 3D printing.
The Phenom XXL with its 527 × 296 x 550 mm build space is 5 times larger than the original Phenom and more than four times more spacious than the Form 3L.
With an industrial grade 4K panel and a pixel pitch of 143 µm, the XXL is no slouch when it comes to detail either. The Phenom XXL lives by its size and is consequently limited –physically – by that very same size and heft.
Suitable only really for small-batch volume production – the XXL may have limited justifiable use-cases, but it sure as anything makes a massive statement.
Price: $ 3,500 for the basic package, or $ 5,000 for the Complete Package plus shipping and taxes
The resin 3D printer market has changed a lot since the Form 1 was officially launched. One thing that has stayed consistent is Formlabs' commitment to excellence. This is true most in its latest flagship Low-force SLA model the Form 3+.
Building upon the excellent foundations of the Form 3, the Plus version improves the speed, reliability as well as consistency of the base model through various improvements such as improved laser strength, 40% faster print speeds and a redesigned build platform for more seamless post-processing.
Coupled with the various firmware and slicer updates, which includes support for easy-to-remove light support materials, and the 3+ becomes a must-have for all industry professionals and university labs. Formlabs has also expanded its standard resin line to include over 35 different materials for varying industry use-cases.
While there are many SLA and MSLA 3D resin printers on the market today to challenge the Form 3+, thanks to the dedication of Formlabs over so many years, none have yet to best it. The Form 3+ is the definite choice for someone who wants a long-term, reliable and consistent SLA 3D printer for professional use, with thoroughly modernized slicer software as well as one of the best customer support teams in the 3D printer industry.
All of these factors make the 3+ our pick for the Best Overall Resin-based 3D printer.