In this article, we will take a look at the best digital calipers for woodworking currently available, as well as the best practice when it comes to calibrating them before use.
Disclosure: This post contain affiliate links, we may earn advertising commissions for sharing products we know and love.
Considerations unique to digital calipers and woodworking
Most people in the woodworking trade tend to prefer to work with an 8-base scale – orders of 8th, 16th, 32nd, 64th of an inch and so on. However, almost all digital calipers for a long time completely ignored these larger graduations for less precise measurements and instead provided readings on the decimal (10-base) scale – orders of 10th, 100th, 1000th of an inch or millimeter and so on.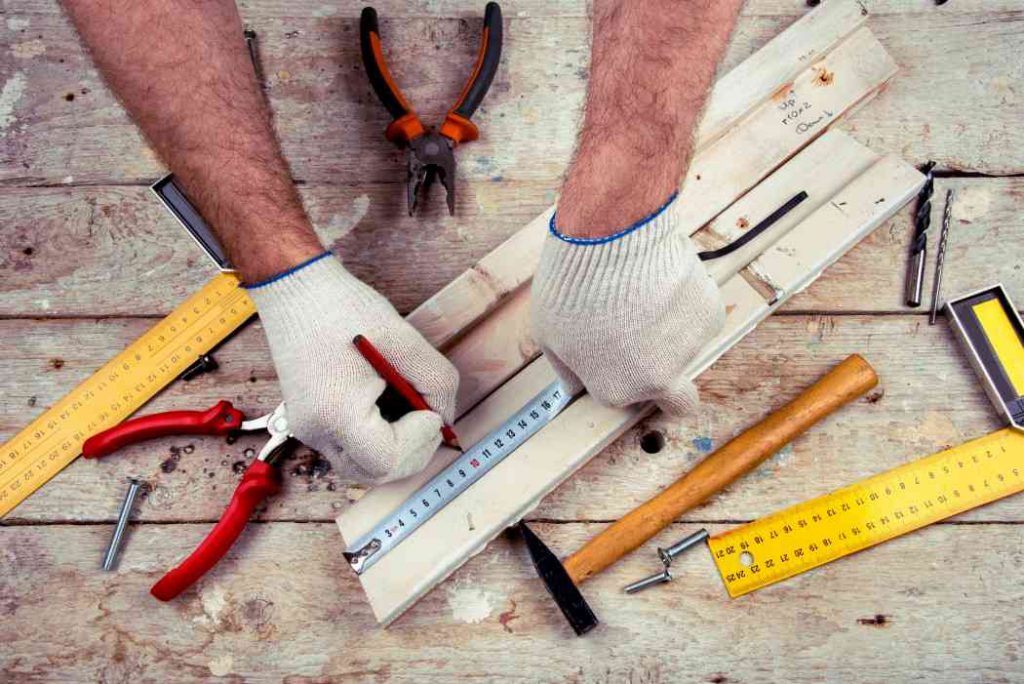 This usually meant that a woodworker would need to grab a calculator or a conversion chart in addition to a caliper just to get the right reading, which is far from a seamless experience.
Thankfully though, as our list of the best digital calipers will show, this exclusion of 8th fractions of an inch as a measurement is quite dead now, with a very large number of good quality digital calipers providing a fraction conversion on an LCD display. So, everyone can enjoy extremely high precision measurements, even though some may argue that it is too much precision for woodwork. If that's even a thing.
In addition to the above specific consideration, we have also explored the general qualities of the digital calipers to ensure that you can choose any of the five calipers on our list based on your unique requirements and preference.
The best digital calipers for woodworking (Budget friendly)
1. Rexbeti 6-inch digital caliper
Rexbeti is a brand well-known for its large range of high-quality, economically priced home improvement products. These stainless steel 6-inch digital calipers are no different in this regard.
The digital caliper provide accuracy of ± 0.001 over 6 inches and precision of 0.0005-inch or 0.01 mm or 1/128-inch fraction respectively.
Rexbeti's digital calipers are made with full hardened stainless-steel build, locking screw and a thumbwheel. It provides smooth movement across the entire scale length. As affordable as this caliper is, it is made with quality build materials all around. The thumbwheel is for fine adjustments while measuring. As with most calipers, it also has automatic on/off function.
Also, as with most competitors in its price range, the Rexbeti digital calipers come in a hard-plastic storage box with a spare battery for added value. These digital calipers provide a reliable, sturdy tool for repeatable accurate measurements.
2. VINCA DCLA 8-inch digital caliper
The VINCA DLCA line of digital calipers comes courtesy of Clockwise Tools Inc. These red and black stainless-steel calipers provide a reasonably sized 0.5-inch by 1.5-inch LCD display, high-grade stainless-steel construction as well as the resultant smooth operation across the shaft of the scale.
These calipers also provide a locking screw on the top as well as a thumbwheel for fine adjustments. The VINCA digital calipers also provide accuracy of ± 0.001 over 6 inches and precision of 0.0005-inch or 0.01 mm or 1/128-inch fraction respectively.
These calipers are calibrated by VINCA staff individually before shipping out to customers. They ship in a hard-plastic storage box along with a spare battery.
VINCA stands out by offering its digital calipers in four sizes, from 6 inches through to 8", 12" all the way up to a 40" model. They also provide the option to purchase a DCLA-XX05C model with the C at the end denoting the presence of a NIST Traceable Calibration Certificate in the box.
Do note however, that the 40" models lose the fraction function. And a digital caliper of that size isn't exactly the most suited for woodworking.
These digital calipers tend to be a little cheaper than Rexbeti, however, they do lack an Auto off function. So be sure to manually turn them off before putting them back in storage.
3. Clockwise tools 8-inch DCLR digital caliper
In addition to the VINCA digital calipers, Clockwise Tools also offer digital calipers under their own name. Aside from the obvious design and color differences, these digital calipers are very close to the VINCA's in terms of functionality.
They give the same accuracy of ± 0.001 over 6 inches and precision of 0.0005-inch or 0.01 mm or 1/128-inch fraction respectively. They ship in a similar hard-plastic storage box along with spare batteries. It is also offered in a 6", 8" and 12" sizes. It features a complete stainless-steel construction.
Where they differ from the VINCA's digital calipers is that the Clockwise models are water and dust-resistant with an ingress protection (IP) rating of 54. It provides a bigger LCD at 0.75-inch by 2-inch, and feature a battery saving Auto-off function.
4. Preciva 6-inch stainless steel digital caliper
Where other brands tend to focus on providing the most features, the 6" stainless steel digital calipers by the New Zealand-based Preciva brand are focused on two simple things: easy readability and accuracy.
The Preciva digital calipers feature a heavy all stainless-steel construction, accuracy of ± 0.001 over 6 inches and precision of 0.0005-inch or 0.01 mm or 1/128-inch fraction which is pretty standard at this point. It ships in a similar hard-plastic storage box along with a spare battery.
All these things can be had in other calipers as well, but what sets Preciva apart however, is its absolutely large 2.2" digital read-out display. These calipers are high on the list precisely because of how easy the read-out is on the big 2.2" display.
Lastly, they feature an auto-on function and a locking screw up-top but lack an auto-off function as well as a thumb wheel for fine adjustments.
5. Moock 6-inch digital caliper
The Moock digital calipers feature a stainless-steel construction, accuracy of ± 0.001 over 6 inches and precision of 0.0005-inch or 0.01 mm or 1/128-inch fraction. Again, standard for calipers in this price range.
These provide locking screw and thumbwheel. They also ship in a hard-plastic storage box along with spare batteries as well as a micro-fiber cloth.
The Moock plastic box comes with a faux-woodgrain look by the way and the display has a plastic screen protector pre-applied to keep it safe from scratches during shipping, which are both nice touches.
The Moock calipers actually come straight from a Chinese company by the name of Anhui Tong and Tools co., Ltd. While the company seemingly has very little visibility on the internet. The Moock digital calipers have become a darling of their users. The Moock digital calipers are IP-54 rated, provide accurate readings, and a battery saving auto-off feature.
High precision digital calipers for woodworking
If you have shopped around for digital calipers before, then you may have noticed the conspicuous omission on our list of the two grand daddies of precision measurement tools: Mitutoyo and Starrett.
Both Mitutoyo and Starrett provide extremely high-grade, precise and accurate digital calipers. The Mitutoyo 500-196-30 even comes with an AOS (Advanced On-site sensor) to ensure the digital caliper is always perfectly calibrated for repeatable readings.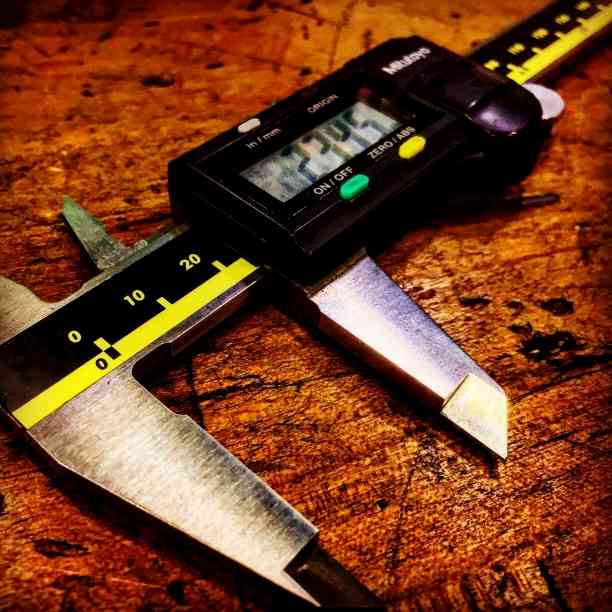 So then why the exclusion? Mainly for three reasons:
both these brands, while extremely respectable for their instruments, make digital calipers lacking the fraction mode of measurement mainly used by engineers, machinist and toolmakers. While it is simple to convert a decimal to a fraction-base by multiplying the decimal part of the reading with the base of the fraction i.e. multiply it by 8, or 16, or 32, or 64 and so on – it still is an added hassle to do so.
These digital calipers can be said to be on the expensive end. When the truth of the matter is that woodworking as a craft does not warrant such a hefty investment. Especially when best-practice dictates to perform a self-calibration before taking a reading anyway.
The five digital calipers mentioned in our list tend to provide repeatable results in the exceedingly large number of cases, with easy zero calibration and generally helpful customer support.
So, perhaps if in need of something for multipurpose, maybe you're cutting wood on a lathe or CNC machine. If you want the absolute peak in repeatable accuracy as in this 6-inch Starrett digital caliper, then go for either of these respected brands.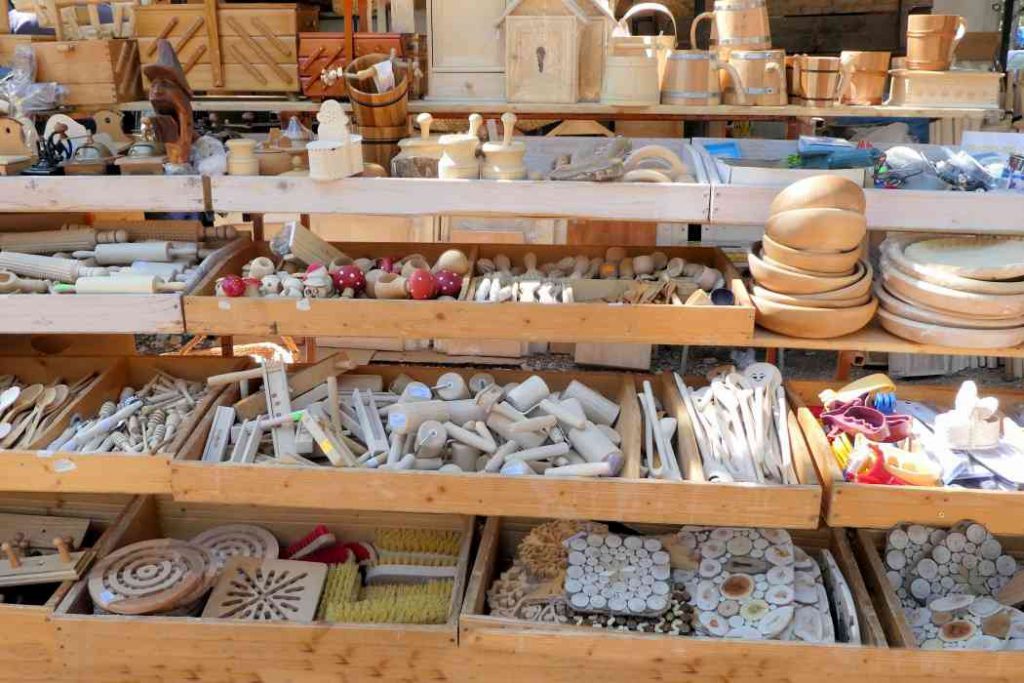 But for most woodworkers who work with readings only as small as on the 64th scale (instead of 1000th of an inch) any of the digital calipers on our list would work well.
Best practice for calibrating and using digital calipers for woodworking
It is best to always calibrate your digital calipers before use, especially after a long time of idle storage.
Wipe the digital calipers and then unlock the locking screw from the top, then move the sliding jaw to close shut with the fixed (left) jaw with a small piece of paper in-between the jaws. Pull the piece of paper with the jaws closed to wipe the measuring surfaces clean of any remaining dust or debris.
In this closed position, put the calipers against a light source, absolutely no light should be coming from between the lower jaws, whereas only a little amount of light should be visible through the upper jaws.
While holding the jaws together, press the zero button. Next slide open the calipers to a fixed point on the scale and check the reading. Close the jaw and repeat 2 or 3 more times. The digital calipers can also be checked against a standardized measuring rod (down to 0.001 accuracy) or length if you have one to check the calibration.
And that's it.