In this article, we will be taking a look at the shelf life of PLA material, the effects of ambient humidity and other conditions on PLA, the resultant degradation, as well as methods to prevent and/or reverse the degradation.
Disclosure: This post contain affiliate links, we may earn advertising commissions for sharing products we know and love.
Though it is not totally necessary to store PLA filament in a dry box, leaving open spools of filament out to deal with ambient conditions on their own, will always be a bad idea. Proper storage in a cool, (ideally) dark dry place is a prerequisite to make sure that 3D prints from a year-old filament turn out as good as they did when the filament was fresh.
PLA filaments does not necessarily go bad when exposed to moisture rich environments. When a moisture retaining filament is extruded through the hot-end of the 3D printer, the high temperatures coupled with the increased water content cause the PLA filament to undergo molecular degradation. This is also the reason why a 3D printed PLA object itself is quite safe from water damage and PLA filament is not.
The makeup and shelf stability of PLA
Polylactic acid or PLA, as it is commonly known among the 3D printing community, is a biodegradable thermoplastic. PLA is a very stable material when it comes to its use in FDM/FFF extrusion-type 3D printers. It is easy on the environment, thanks to its renewable nature. At the same time, it is at least as stable in normal conditions as ABS, requiring specific industrial composting conditions to demonstrate its biodegradability.
Manufacturers of PLA filament usually state its shelf life as anywhere between two and three years. There is, however, a catch: heat and humidity.
PLA has a relatively low glass transition temperature at around 140-149°F (60-65°C) and will rapidly begin to lose its structural integrity at higher temperatures. So anytime the filament is exposed to excessive temperatures while still on the spool, damage can occur making the filament brittle and difficult to work with.
As for humidity, PLA is, like all FDM/FFF 3D printing materials, a hygroscopic polymer, a polymer that absorbs and releases moisture from the air and its immediate surroundings. And while 3D printed objects made out of PLA can resist water without any visible sign of degradation, the same cannot be said for PLA filament that is yet to be used for 3D printing.
Effects of humidity on PLA
PLA filament is hygroscopic by nature and will readily absorb moisture when exposed to humidity. Once moist, the PLA filament will swell up, and additionally lead to poorer 3D print detail, bubbles on top surfaces of prints, increased stringing, inconsistent extrusion rate, and even damage to the extruder hot-end due to steam from the moisture trapped inside the filament. What is arguably worse is the loss of strength in the 3D printed objects.
Hydrolysis
Hydrolysis is the chemical breakdown of any compound due to its reaction with water.
PLA material is an organic polymer in which a very large part of its polymeric structure is water molecules. As PLA filament is exposed to moisture via ambient humidity, it becomes increasingly prone to molecular degradation through hydrolysis. Water molecules increasingly invade the polymer structure and begin to break down the molecular chains of the PLA polymer.
Safe storage of PLA filament
Luckily, the ambient stability of PLA allows 3D printing aficionados to utilize a variety of storage methods. We will discuss them in increasing order of cost and quality.
1. Zipper/ZipLock Bags
One of the easiest and possibly frugal methods of storage for PLA filament, is to simply place it inside airtight ziplock bags. Moreover, some PLA filament vendors actually package their filaments in high-grade metal-lined ziplock bags with packets of silica gel. Simply retain said bag and re-use it to store the filament when not in use.
This approach is, however, far from perfect. Something as trivial as a hole in a ziplock bag will let in moisture. What's more, the silica gel packets would also need to be periodically monitored and replaced since once the packet has absorbed moisture up to its saturation, it will not be as effective at keeping the PLA filament from absorbing the rest.
Further, if you print with different spools of filament often, then it can become a real pain to constantly pack and unpack spools.
A type of storage bag we like to use to store filament is the large vacuum sealed bags. Seen below: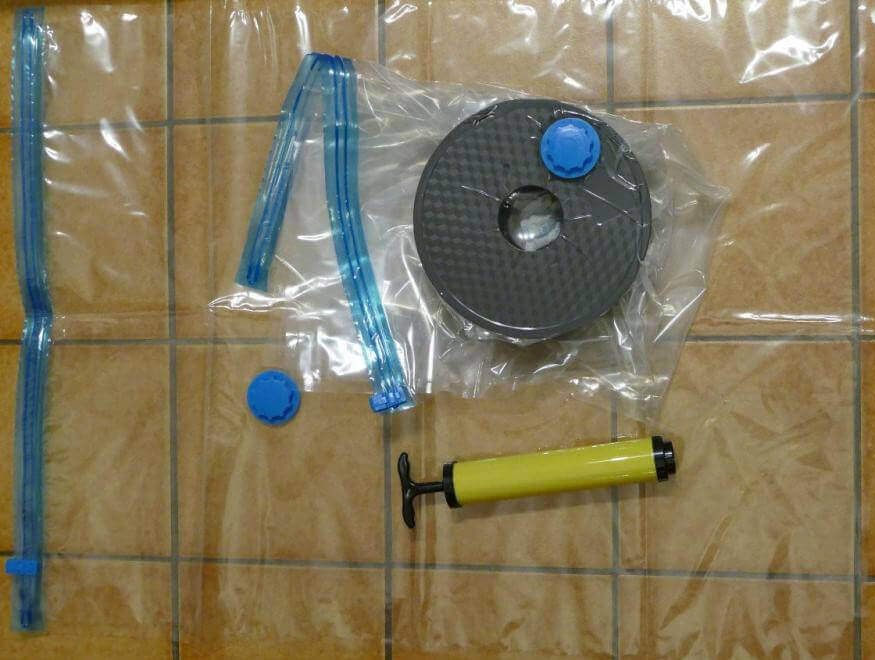 These bags come in much larger sizes than regular zip lock bags while also being much stronger. They can be vacuum sealed with a suction pump. They are not too expensive, see pricing online: Large vacuum sealed bags.
Cost: Lowest
Preservation Quality: Varied
Storage Longevity: Short
Printing Convenience: Inconvenient
2. Dry Boxes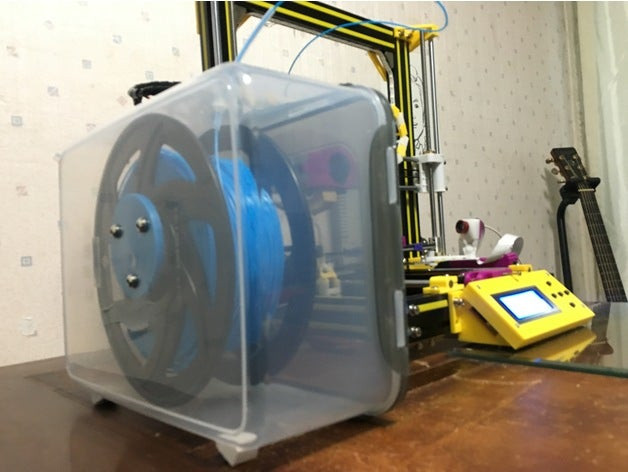 A more thoughtful approach to the storage of 3D printing filament, dry boxes are an increasingly popular solution for keeping filaments clean and dry.
While ready-made filament dry boxes can cost anywhere around the $50-$60 mark. It is DIY solutions that are most popular amongst the 3D printing community.
Multiple tutorials exist to help any user with making a custom dry box fit for their specific needs. The usual assortment of prerequisites includes:
A lid-sealable box container large enough to contain the spools easily
PVC pipe or something similar to hang the spools on
A hand-drill for drilling the required holes to install the mounting for the PVC pipe, as well as to drill additional holes to install support and exit holes for the filaments.
Silica Gel packets
And optionally, Teflon or other tubing to ensure that the exiting filament is also protected and can travel easily
A good dry box DIY build available is the heated filament dry box by RichRap. Dry boxes have the benefit of easy access to the filament even while it is stored. Further, if one makes one's own dry box then it can be customized to specific requirements.
The only real downsides to their use, is that it may take some tweaking and adjustments to accommodate a specific 3D printing set-up.
Also, silica gel packets need to be monitored and replaced same as with Ziplock bags.
Cost: Depends – low if DIY, moderate if purchased online or ready-made
Preservation Quality: Usually high
Storage Longevity: Medium to Long-term
Printing Convenience: Convenient
Best readymade dry boxes available
DIY dry boxes are great but often lack in functionality and are inconvenient if one doesn't have the time required to build one. The best none DIY dry boxes available for purchase to date, with the best value appearing first are: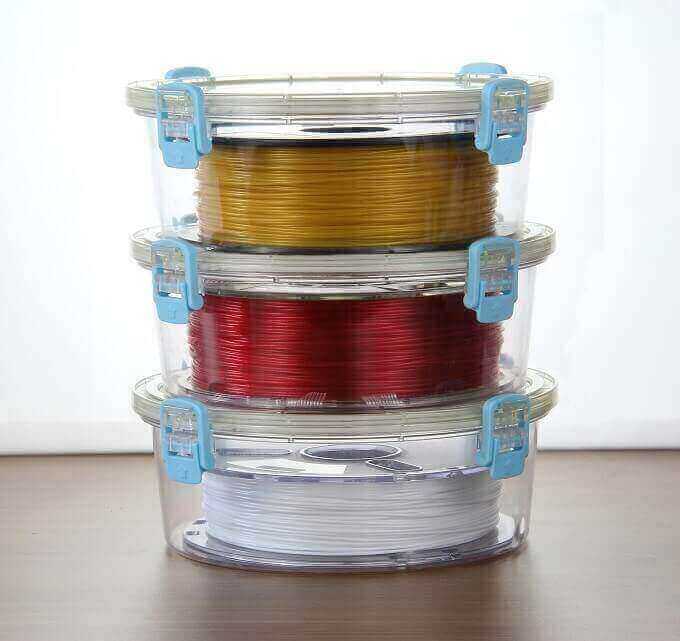 3. Heated dry cabinets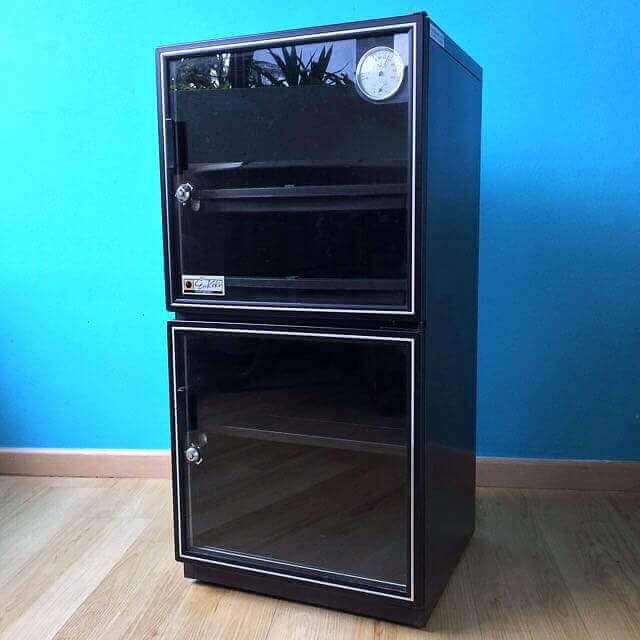 Heated dry cabinets are large-sized filament cabinets with integrated humidity and temperature controls. These cabinets can get quite expensive, so they are only justifiable if you routinely purchase large spools of expensive filaments that need to be stored in the best possible enclosures.
Like Dry boxes, these cabinets allow the use of the filaments while stored via exit holes. Where they differ is the fact that they are usually equipped with variable humidity and temperature control allowing the user to exercise a large degree of control on the storage environment as well as to potentially dry out moist or wet spools while keeping them in storage.
Cost: High
Preservation Quality: High
Storage Longevity: Long-term
Printing Convenience: Convenient
Drying moist or wet PLA
When it comes to the quality preservation of PLA filament, prevention is most certainly better than the cure. That being said, moisture filled PLA filament can easily be "cured" as well by effectively drying it out before use.
1. Baking
The simplest way to dry any filament including PLA, is to simply chuck it in the oven and let it dry out. The longer you leave in the filament, the better the drying. For PLA, a maintained temperature between 104-113 °F (40-45 °C) is recommended. Care should be taken that the filament is placed in the oven AFTER it has reached the desired temperature. Most ovens will initially get hotter and then cool down slightly to do selected temperature level.
Additionally, drying in a natural gas or LPG oven is not recommended as both methane (natural gas) and propane produce water vapors during combustion. Ideally, use an electric oven with good temperature control and leave the filament in for 4-6 hours. If the filament still exhibits wetness (extra stringing, oozing, popping, steam or cracking sounds) while being extruded, then put it back in for more drying.
2. Dehydrating
Another method for drying wet PLA is by using a food dehydrator. Most dehydrators come with removable trays so space can be made inside to accommodate a filament spool. Food dehydrators are a safer way than ovens primarily because they operate at lower temperatures and provide more control over the drying process. The temperature should again be a cozy 104-113 °F (40-45 °C) for about 6 hours.
3. Commercial solutions
If you want even more convenience, then a commercial filament dryer can be purchased from anywhere between over a $100 to well over $1,500. The more expensive drying solutions are, of course, we can expect professional solutions with added bells and whistles like built-in desiccants, filters, intuitive controls and shorter duration, better drying results.
Sunlight and UV degradation
Exposure to sunlight is a one-two knockout for PLA. As we touched upon at the beginning of the article, the first punch comes from heat.
The second one, however, is the silent killer of all polymers: Ultraviolet degradation. UV light present in sunlight will cause discoloration, as well as loss of structural strength in PLA. This affects both PLA filament as well as 3D prints. And unfortunately, it really doesn't have a cure.
PLA filaments will indeed go bad when exposed to moisture rich environments, coupled with solar radiation. UV rays affect the molecular structure of PLA and cause irreversible changes in its chemical composition.
The only silver lining being, that the process is quite slow. PLA prints – apart from the discoloration, will withstand sunlight for quite a long time. It takes years before failing critically. If, however, your design is already pushing the physical limits of the material, then expect it to fail sooner than later in the sun.
For filaments though, it is best not to risk the damage and to store them properly. They deserve at least that much, seeing as how they are what dreams are 3D printed out of.
Most humid states in the U.S.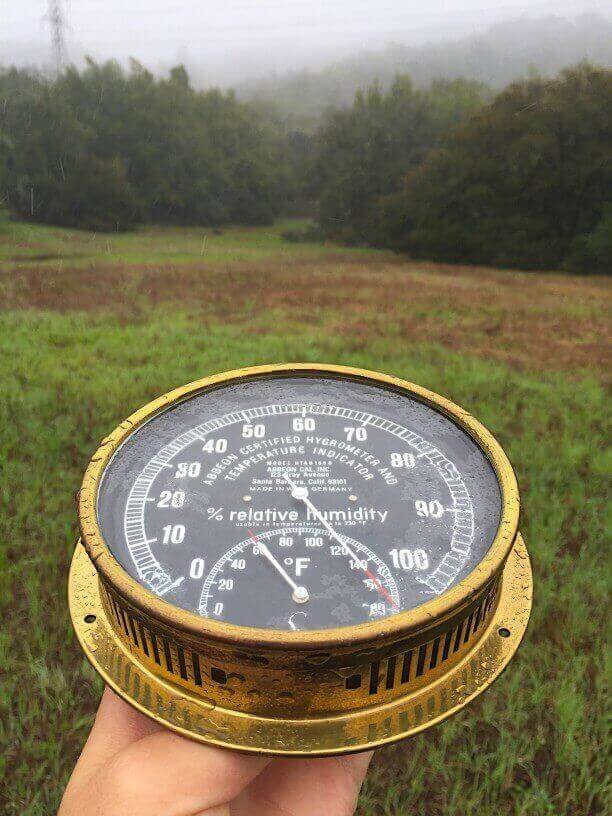 Humidity refers to the amount of moisture (water vapor) contained in the air molecules. The most humid areas are typically the coastal regions, especially those closest to the equator. To give some perspective on the humidity issue, the following enlists the U.S. states with the highest relative humidity based annual averages:
Alabama
Louisiana
Florida
Delaware
Arkansas
Alaska
Georgia
Hawaii
Mississippi
Oregon
Iowa
Indiana
Illinois
Michigan
Rhode Island
Humid places around the globe
Some other places around the world with high humidity are:
Shanghai
Singapore
India
China