Construction 3D printing materials offer a lot less variety than their desktop counterparts. The most popular material by far is 3D printing concrete. However, this is just a very broad term for mixtures that involve cement, fibers and other ingredients mixed in with water. Other materials include castable clay, mortar, synthetic polymers, and even regular old plastic (recycled).
Concrete
Concrete is by far the most popular construction 3D printing material. In large part this is due to the flexibility in its formulation. A number of construction 3D printer makers have also devised their own optimal formulation of 3D printing concrete that they claim is the best for use with their construction 3D printers. "Lavacrete" is one such example used with the Vulcan construction 3D printers by ICON.
Construction 3D printing concrete in many ways is similar to normal concrete, but with added fibers, super-plasticizers and other ingredients that make the concrete set in optimal time for layer adhesion between the construction 3D printing layers, as well as strength to allow for less need of steel re-enforcements.
The major advantage of using 3D printed concrete is obviously its strength, as well as its similarity to conventional concrete, which allows for transference of conventional construction material knowledge to 3D printed house construction as well.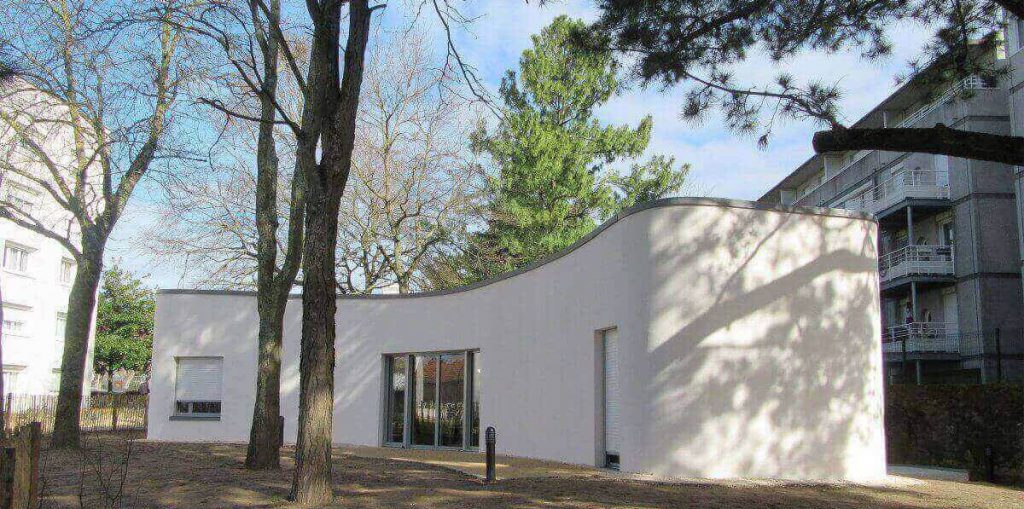 The major drawback, however, is how environmentally unfriendly concrete itself is. Concrete production, or more specifically, cement production overall is responsible for more than 5% of total global CO2 emissions. Which is worse than even emissions by the airline industry.
While it is still the go-to material for construction 3D printing and 3D printed houses in general, 3D printed concrete is far from being an eco-friendly choice for the same.
In its defense however, 3D printing concrete is on a road to sustainability with research underway to make 3D printing concrete out of CO2 based binders as well as a shift to smartly designed concrete structures that would use less material for the same level of strength, thereby limiting the need for this eco-unfriendly building material.
Mortar
Mortar, similar to concrete, is a mix made out of cement, sand and other minerals, designed to be used in construction. Traditional mortar is the stuff that is placed between bricks to bond them together. Construction 3D printing mortar is similar but is designed to be used to construct entire 3D printed houses.
Mortar tends to be easier to work with, and more flexible than concrete allowing for it to be made with a less environmentally damaging footprint. Mortar-based construction 3D printing is slowly falling out of practice in favor of concrete-based mixes mainly due to the added strength advantages of 3D printing concrete.
However, there are notable exceptions, such as CyBe Mortar, that is used by CyBe's line of construction 3D printers.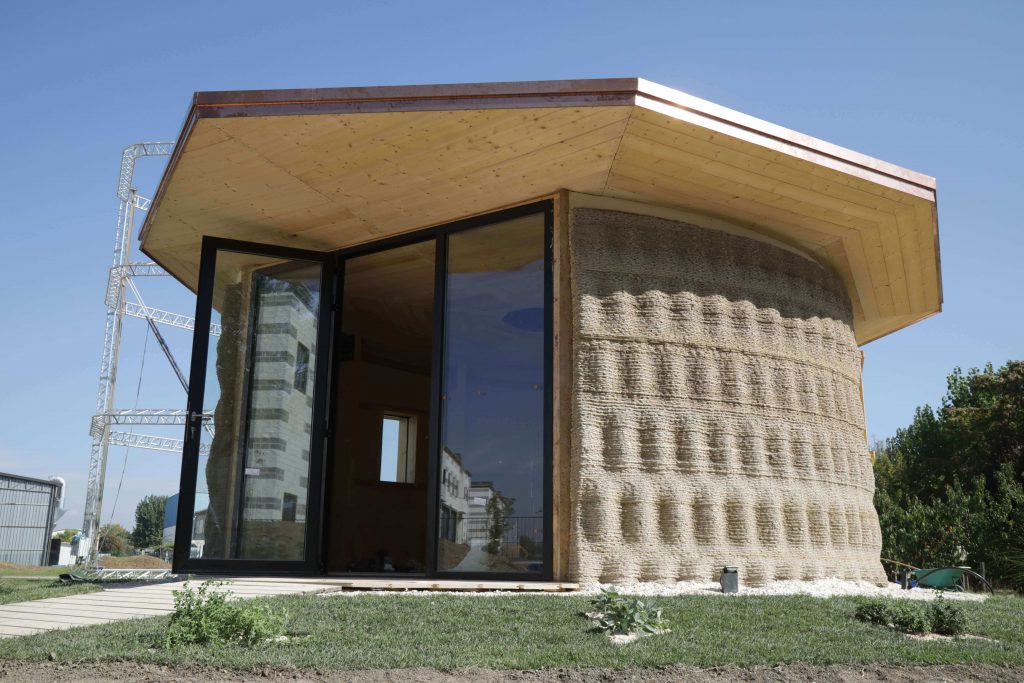 Soil
Notably used by WASP in their Crane Wasp and BigDelta construction 3D printers, soil is simply the stuff we walk on. By engineering the material delivery pipe and nozzle of the 3D construction printer, WASP built the very first 3D printed earthen house, "Gaia", with rice husk insulation in Italy in 2018.
If the environment comes first and foremost in your decision making, then using the on-site soil along with agricultural fiber waste like WASP used is an excellent way of making a 3D printed house with an almost nil environmental footprint.
More than just environmentally friendly, using the soil at any site is also cost and time effective. WASP later on went to build an entire village of 3D printed earthen houses, all smartly engineered to be able to provide modern amenities in Italy based on the same principle technology demonstrated in constructing "Gaia".
Special polymers
The beautiful thing about 3D printing technology is the potential for innovation merely through using a specialized printing material. Similar to desktop 3D printing, construction 3D printing is also home to a large number of innovations in material sciences.
While most of these in the past have dealt with making more effective 3D printing concrete. A recent trend has been towards developing entirely new synthetic polymers that can be used to construct entire houses.
PassivDom is one such example whereby they have built an entire 3D printed prefabricated house using a special insulating polymer composite. The polymer composite is so good in fact that PassivDom's prefabricated houses can be heated and cooled with only solar energy powered equipment inside the house. PassivDom has even went as far as to cheekily call their prefab houses "Zombie proof".
Recycled and other plastics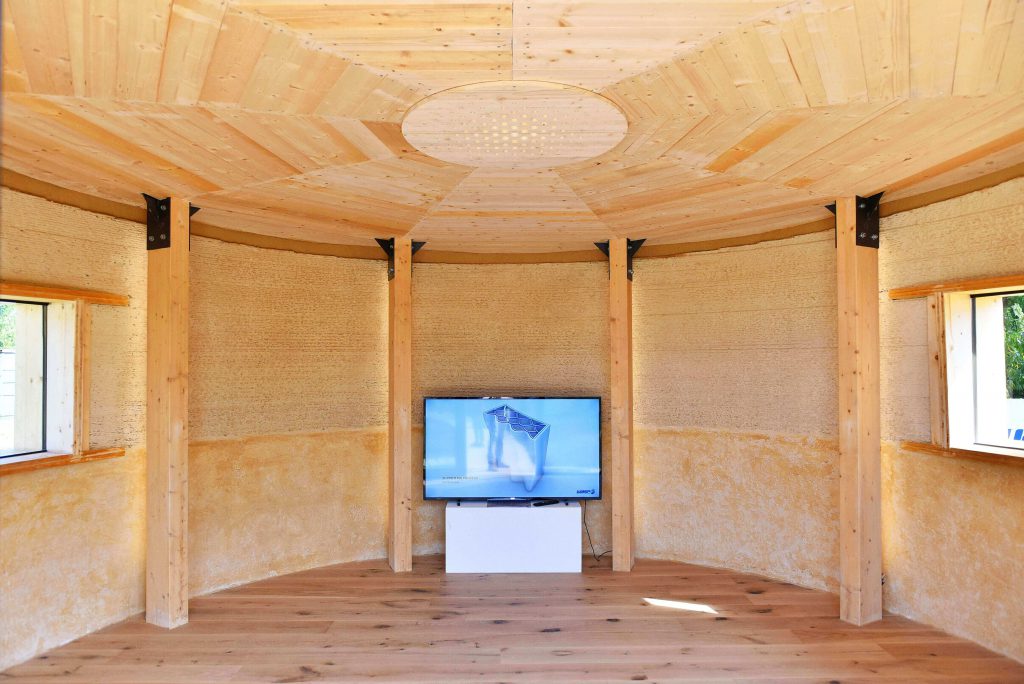 That's right, houses made from plastic! Recycled plastic that is. Born out of a collaboration between DUS Architects and Ultimaker, the duo jointly designed and constructed a small plastic house as a means of demonstrating the viability of construction 3D printing with recycled material.
The aim of the project was to demonstrate how making plastic houses could serve as a solution to housing needs in the wake of a crisis or a natural calamity.
Likewise, there is work ongoing in 3D printing buildings with bioplastics.