3D printing as a technology has flourished more thanks to the internet and online communities. Several online communities and repositories that now exist make it easier than ever to start 3D printing even if one is completely new to creating 3D printable STL files.
In this guide we will be taking a look at the 25 best websites to find and download free 3D printer STL files and 3D models.
Disclosure: This post contain affiliate links, we may earn advertising commissions for sharing products we know and love.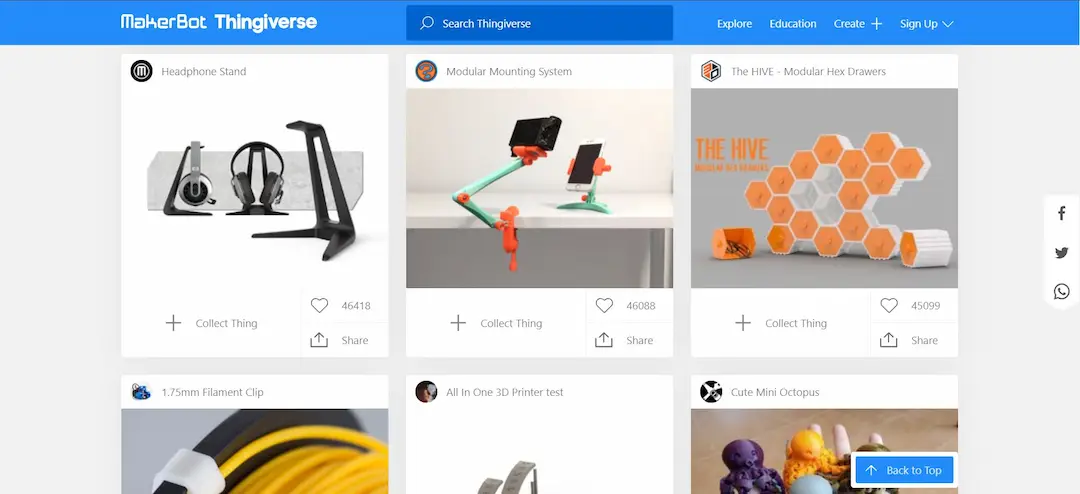 If you have followed 3D printing even for a short while, odds are that you have already been to Thingiverse. Thingiverse is undisputedly the biggest online repository for free 3D printer files and also boasts one of the largest online maker communities. Nearly all of the files are uploaded by users under open source and fair use licenses. Thingiverse does uphold its community guidelines with vigilant strictness, and as such some content such as gun-related models is not hosted at all as per its policies.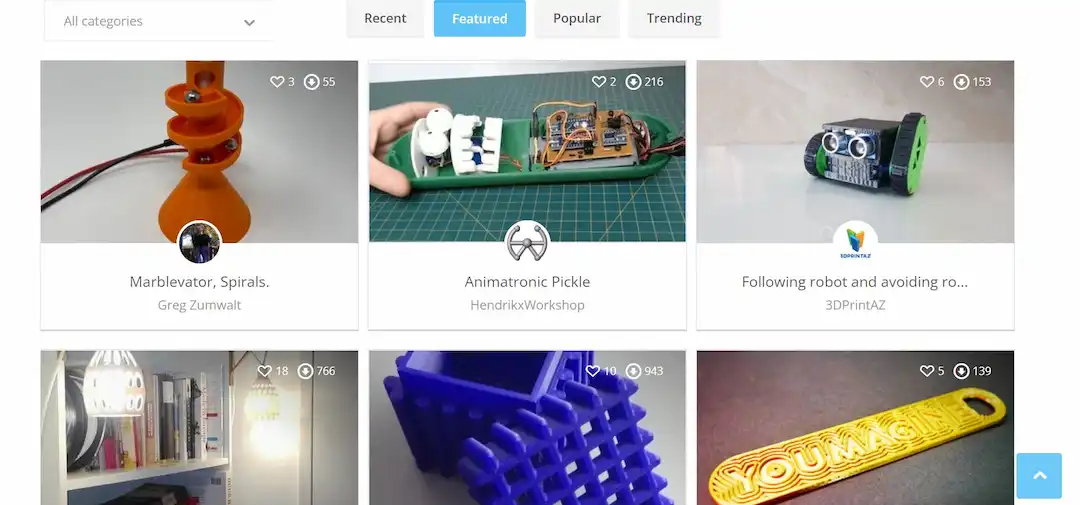 It would be easy to shrug off Youmagine as another "Thingiverse" but in actuality Youmagine is a great resource in and of itself. Youmagine hosts a boatload (the website itself states it hosts over 15,000) of 3D printable STL projects ranging from hobbyist to professional grade. Youmagine is on a stated mission to make it as easy to create, edit and share STL files as it is to do the same to text files. Youmagine is a long way out in achieving this loft goal, but its honesty towards it is nonetheless clear to see.
3. Cults3D (Free and Paid)
Cults is one of the more popular names when it comes to 3D printer STL file marketplaces. Cults features a large collection of high quality free as well as paid STL files for download neatly arranged in different categories. It is also home to an active community of talented 3D modelers and 3D print designers. While Cults does not offer a direct way of asking a designer for a custom 3D print, one can still do so through the Community feature of the website.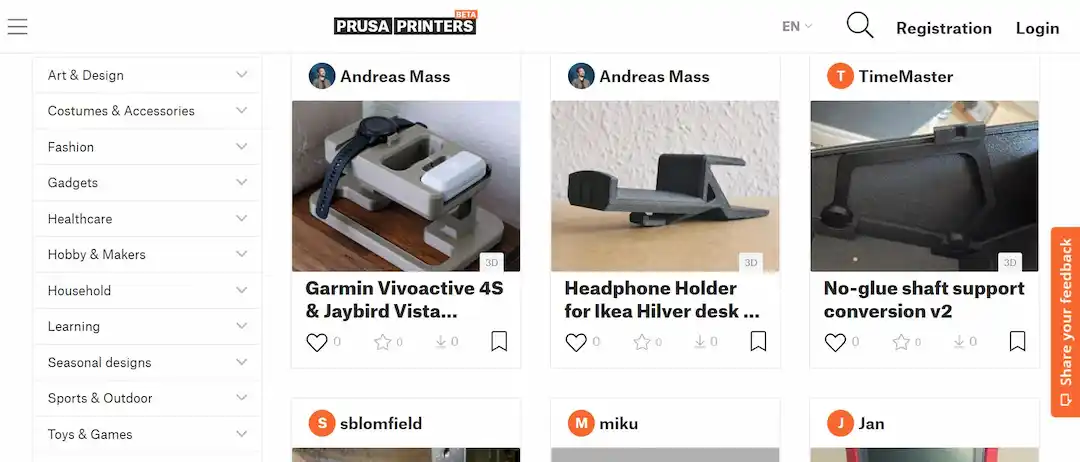 Josef Prusa pushed the envelope hard with his Prusa i3 FDM 3D printer and showed the world how good, consistent and easy desktop 3D printing could be. In 2019, Prusa tried to do the same with 3D print files. While the website itself is still in beta, it is one of the fastest growing online repositories for 3D printer files in the STL format. This being a Prusa initiative; all the STL files featured on the website are perfectly compatible for all FDM 3D printers. This is also one of the better manufacturer backed STL repositories.
Turbosquid is one of the oldest 3D model marketplaces. While the biggest majority of the website only deals with renders and 3D models for animation, a sizable chunk of these 3D models are also offered in STL format and can therefore be 3D printed. Turbosquid features a large selection of both free and paid 3D models. This is a marketplace and as such the paid options far exceed the free options in terms of sheer number as well as quality.
6. Libre3d (Free and Open Source)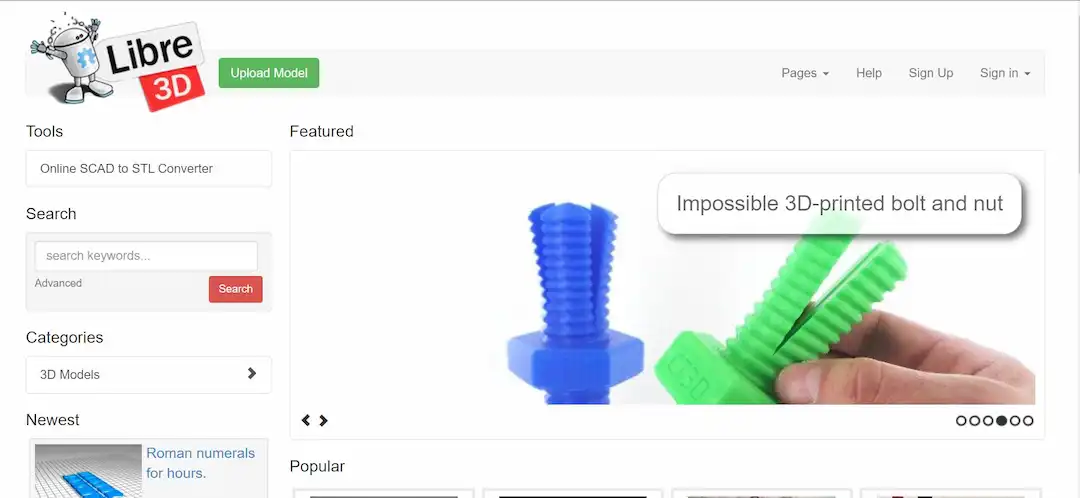 If RepRap is what got you into 3D printing, then this website may be useful. Adrian Bowyer himself has thrown his weight behind this small (right now) but extremely important 3D print library. Libre 3D follows the open-source ethos and provides a range of open source and online tools in addition to the completely free and open source STL files. While the website lacks the luster and pizazz of the bigger paid marketplaces, it is an essential platform to make sure that Open Source remains etched in the 21st century DNA of 3D Printing.
XYZ printing is one of those under the radar but absolutely adequate online repositories of 3D printer files. The website features a very large variety of categories with the additional ability to filter 3D printable STLs based on color, dual extrusion, filament type and so on.
The only slight downside is that all downloads are locked behind a (free) account sign up and login.
If engineering-grade 3D printer files is what you are after, then you can't ever go wrong with GrabCAD. While primarily a CAD repository, GrabCAD features an ever-growing collection of professional STL files for 3D printing. There are few competitors that could even boast a fraction of the professional STL models available on this site complete with instructions and comprehensive CG galleries courtesy of its community of over 9 million engineers.
The NASA 3D printer STL model library is an initiative by the Space Agency to appease its enthusiastic faithfuls as well as the general public by sharing some of the Agency's biggest highlights in 3D printable form. Don't expect to find useful thingamajigs hosted on this website. Instead, NASA releases several 3D printable STL files to the public for educational purposes. These include elements from NASA's past rockets, scanned landing sites as well as numerous other interesting and neat 3D printable models.
The NIH 3D Print Exchange is a popular platform for the STEM (science, technology, engineering and math) community. This Exchange is uniquely positioned as it is perhaps the only website of 3D printer STL files that are almost entirely designed and shared by medical and scientific experts. It provides five collections in the form of COVID-19 Response; Outbreak; Prosthetics; Neuroscience; Heart Library and the RCSB Molecule of the Month.
The Zortrax library is also an online repository that until some time ago was packaged and marketed exclusively to Zortrax 3D printer owners. Thankfully however, the company decided to open up its high-quality repository to the general public, with the creation of a Zortrax ID being the only requirement for downloading the STL files.
The Zortrax library is divided into several categories such as Art & Design, Fashion, Zortrax parts, medical, Automotive, Aerospace and many others. While most STL files here would naturally have optimized settings for Zortrax 3D printers, the files themselves remain compatible with all FDM 3D printers.
Instructables is run by AutoDesk, Inc. as a how-to website for makers of all backgrounds, including 3D printing. If DIY projects are your thing then you may absolutely love this website. All projects on Instructables come complete with freely downloadable project files, instructions and easy-to-follow step-by-step guides. The community is vibrant and friendly too! Which makes Instructables one of our favorite places on the web to pick up a new project.
The Smithsonian Digitization project is the 3D scanning project of the Smithsonian Museum. Thousands of 3D models are available to the general public for both viewing as well as downloading. 3D models available range from sports memorabilia, fossils, aquatic creatures, satellites, among many more unique items all with a special place in history.
Files are available in STL, OBJ, or both in addition to other formats. OBJ files can be easily converted via many online converters, as well as read natively in Slic3r and other slicing software.
One of many online OBJ to STL Converters is Makexyz's OBJ to STL Converter.
14. Embodi3d (Free and Paid)
Embodi3D is one of the largest and fastest growing online 3D printed STL library for anatomic models generated from real medical data. There honestly is nothing quite like Embodi3D in the online STL repository space. The collection on offer is not for everyone. But for the biomedical community worldwide, embodi3d represents a wealthy hub of 3D printable knowledge.
Embodi3D features categories on bone structure, skin, veterinary, heart, muscle and basically all areas of the human anatomy. Embodi3D also features a special section for COVID-19 related parts such as masks, face shields and other protective as well as 3D printable medical equipment.
15. Sketchfab (Free and Paid)
Sketchfab is a 3D models marketplace where you would be able to find many high-quality 3D printer STL files. While the paid store section is separately marked and can be filtered by file type, the free downloadable section must be searched via the search dialog box for STL files. Despite the somewhat obfuscated structure of the website, the average quality of the 3D printable models is on the higher side.
Free3D is another 3D model website run by TurboSquid. Free3D only focuses on downloadable 3D models. Free3D does not natively provide support for STL files, however the main page features an OBJ filtered search button.
The majority files on Free3D is just that: free with no strings attached, however the website also allows members to sell the 3D models for up to $99. The quality of the 3D models is arguably on the higher side for both free as well as paid 3D models.
17. Pinshape (Free and Paid)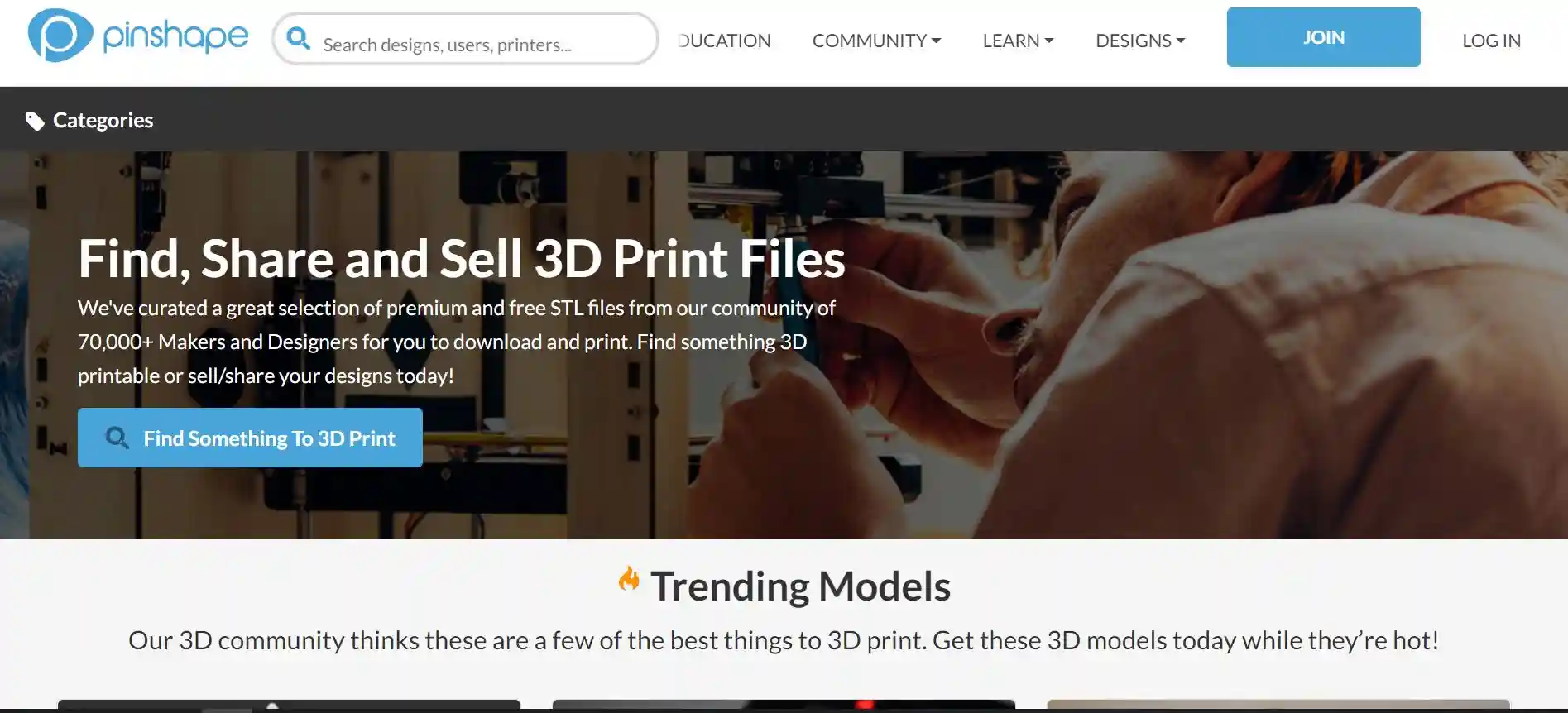 Pinshape was launched by Formlabs as a platform to connect makers. As such it serves as both a free repository of ready to 3D print STL files as well as paid STL files. Unlike most other marketplaces Pinshape does not feature paid content above and beyond the free STL files. In fact, it would take effort on Pinshape to find extremely expensive STL files with the vast majority either being free or costing only a small amount – usually within single or low double-digit dollars.
Myminifactory.com is a self-proclaimed enabler for a decentralized ecosystem of 3D creatives. The website has a ton of downloadable files albeit mostly related to fantasy figurines and the like. It has an active community of 3D designers that routinely takes part in its many 3D design challenges. There are free STL files of equally high quality to be had on myminifactory.com, however the very large chunk consists of high-quality paid 3D printer models.
19. 3dexport (Free and Paid)
Formerly known as CGWorkr, 3D Export is a full-fledged 3D Printer model marketplace. While there are free STL files for download, the primary purpose of this website is to connect buyers and sellers of 3D printer models. Featured content on the website includes designed to scale 3D printer models. You can also find a wide variety of jewelry and ornament 3D printer files. Like most other marketplaces on this list, 3D Export also hosts 3D renders for sale in addition to 3D printer STLs, but those are fairly easy to wade through.
Threeding.com is a self-described online marketplace for 3D models suitable for 3D printing. The website has been around since 2014 and while its design looks decidedly stuck in that era, the available 3D printer files at the very least look easy to 3D print as well as seem to be thoughtfully designed. Threeding.com also features a 3D print on demand feature but you would have to sign up (free) to the marketplace to access it.
21. CGtrader (Free and Paid)
CG Trader was founded in 2011 as an inclusive 3D designer community where designers could share their works for free or offer their services and finished models for a fee. CG Trader caters to a broad demographic, which for our benefit also includes 3D models for 3D printing. You can browse and download the free 3D printable STL files on offer, but the focus of CG Trader remains on the professional marketplace element built into the site.
Fab365 is arguably the most modern-looking 3D printable STL marketplace slash STL buyer/seller community on our list.
The website is split broadly into the store section and the community section. The community section, unlike other marketplaces, provides a unique request function that allows one to upload any custom request, which could then be upvoted by "supporting" the request on the website. Community requests frequently are fulfilled and become part of the storefront of the website.
The store also features various collections in addition to the common categories on other websites. 3D printer models on the website mostly consist of figurines, scale models or similarly ornamental fandom items.
23. Yeggi.com (Free and Paid)
Yeggi is an online 3D printing model search engine. Yeggi has indexed over 2.9 million 3D printer files. Almost all the models on Yeggi are in STL format with some anomaly found in OBJ but at the very least the search results of Yeggi always lead 3D printable models.
The interface of Yeggi could only be described as clunky and old, but what it lacks in finesse it quickly makes up for with just the sheer number of websites Yeggi includes in its search results. Many obscure websites are aggregated and indexed alongside popular ones to yield search results that allow one to quickly view and reach an STL file.
Thangs is a 3D print model search engine. What sets Thangs apart from other search engines is that instead of only providing links to other websites, Thangs provides all the necessary information of the posted 3D printable STL file along with a downloadable link right from the website.
Thangs features a modern interface and provides immediate access to thousands of publicly available STL 3D printer files. The website also routinely features popular STL files and trending searches so one can easily find new STL files similar to how a community driven website would function. Downloads are however, kept behind a free login.
25. Fiverr.com (Paid Custom STL Files)
Fiverr is not a free service. It is however one of the best sites to get fully custom 3D printer STL files and 3D models designed for you quite affordably. There are many 3D modelers, CAD designers with whom you can directly communicate with to design any unique piece or custom part. Prices typically range upwards of $30.