Dial indicators will take very precise measurements, from .001", said to be one thousandth of an inch. And this can go all they down to .00005", said to be five hundred thousandth of an inch.
But all this precision can quickly go out the window, without proper calibration and zeroing procedure. In this detailed, easy to follow guide, we'll look at:
How to zero a dial indicator (the first step).
How to calibrate a dial indicator for accuracy.
And how to avoid errors when using a dial indicator.
How to zero a dial indicator
Calibrating and setting zero are two completely different process. Many craftsmen and operators often overlook zeroing out dial indicators. The reason for this is that indicators are mostly used for comparative measurements. Whether the measurement is taken from the zero mark or somewhere else on the scale, the only things that matters is the difference from the starting point, to finishing point.
However, neglecting to zero an indicator is a very erroneous practice which should be avoided if at all possible. Since we are calibrating here as well, setting the indicator to zero is our first order of business.
The things we will need:
To complete this process, we will need a flat surface. Ideally, you will need a granite plate. But anything comparable to that should suffice.
We will also need a dial indicator of course, along with a stand for it to be mounted on.
Steps for zeroing a dial indicator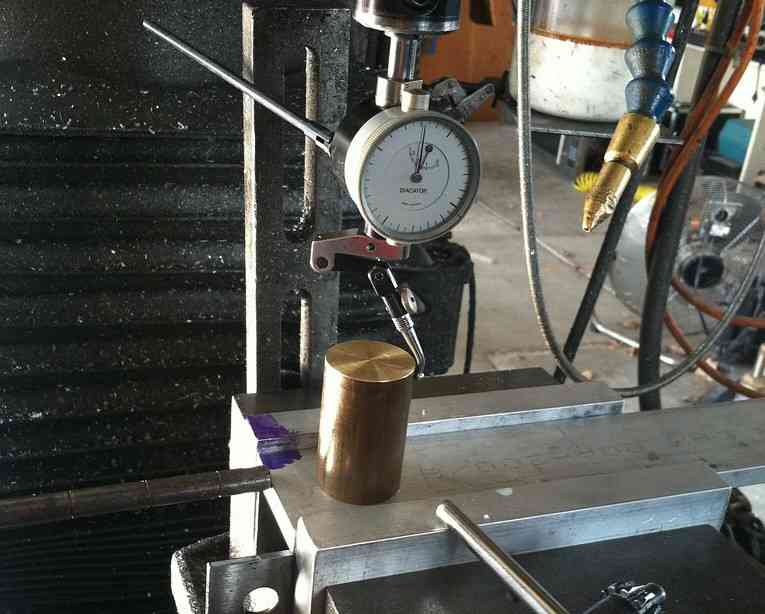 Prep the surface plate, making sure it is free of any lose material or other surface contaminant.
Ensure that the indicator and its fixture is in working order. Make sure that the tip is free from wear or other contaminants.
Position the indicator perpendicular (90°) of the reference plan, which is in our case the granite plate.
Clamp the fixture so that the tip of the stem is slightly touching the surface being measured. This is again referring to the surface plate in our case.
Unlock the bezel, then turn the dial until the needle reads 0.
The process of zeroing the indicator is complete. The indicator is now set to zero.
General instruction for calibrating a dial indicator
There are several methods for calibrating an indicator. Calibration is a form of comparative measurement by its very nature.
By definition, a calibration is essentially measurement and analysis done in reference to a higher known standard to eliminate any possibility for error.
The most common way to perform an indicator calibration is by using a set of precision gauge blocks to measure against. One option is sending the instrument to a professional lab to have it calibrated. Other methods include the use of a micrometer head or specialized instruments to take measurement in reference to the dial indicator.
In this guide, we will use a set of precision gauge blocks to perform the calibration.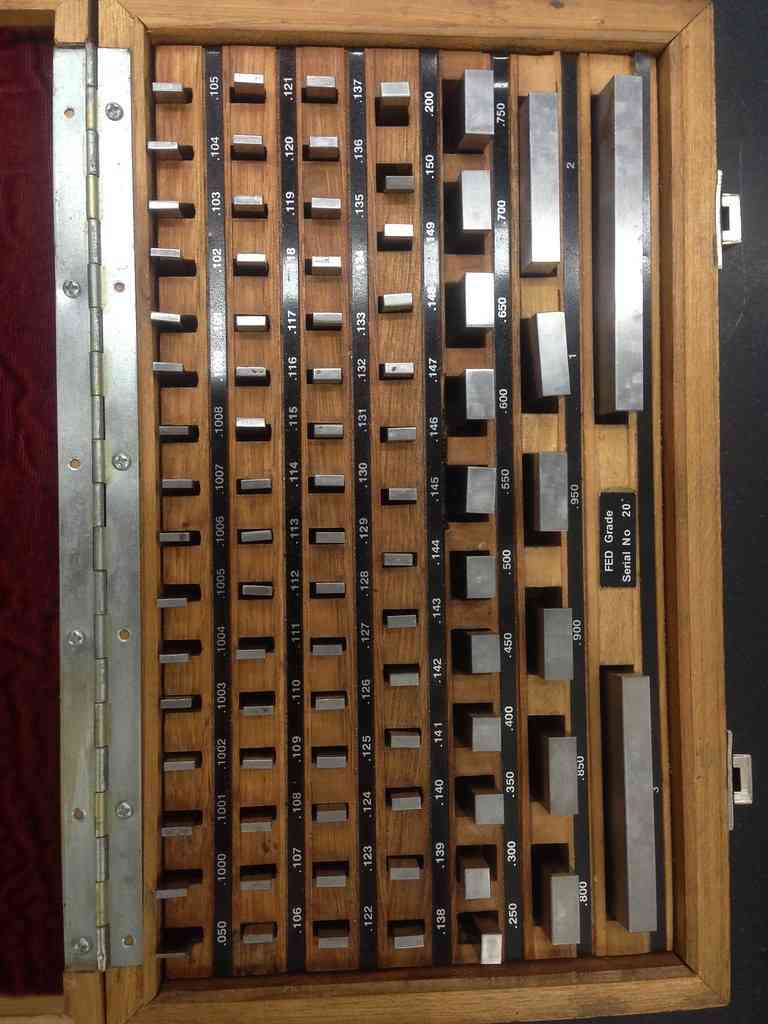 The dial indicator calibration procedures
It is a good idea to ensure that the gauge blocks, known here as the master, are clean and in good shape to prevent any errors in the calibration. On a different note, the indicator stand should also be inspected visually if it is being used in the calibration process, given that this method is essentially calibrating the entire setup. Complete the steps on how to zero a dial indicator above if you have not done so already. Any possible points of failure in the setup should be visually inspected to ensure that everything is working as they should. Spindle travel should be smooth, nothing should be bent, or loose.
The next step is to take a series of measurements. We will do this by placing a gauge block, or a stack of gauge blocks on the surface plate. Lift the indicator spindle, also known as the plunger, in order to carefully slide the gage blocks underneath the probe.
Next, we will need to write down the results on a sheet of paper. As a rule, it is recommended to take a measurement on each and every point on the scale. Each measurement should be graded against the master, which is in this case the gauge blocks. It is also recommended to take the same measurements multiple times to measure for repeatability. Cutting some corners and skipping points here and there is up for debate. As long as you understand that results may be different from one graduation to the next.
After all the measurements have been recorded, it is time to pass or fail the indicator. If all the readings match the specification of the gauge blocks, then you have a perfectly calibrated indicator. The decision to accept or reject the instrument is typically done based on the extent of the deviations, the quality specifications put in place by the manufacturer of the indicator, the specifications for the gauge blocks, and of course, your own quality standards. Generally though, if there are any readings more than plus or minus one graduation, this usually means something needs repair.
For a cheap budget indicator, it is often easier to just buy a new set. If this is a more expensive name brand indicator, it may be possible to send it in to the manufacturer for a complete rebuild.
This may all be done for free if it is still under warranty. This usually cost about half of what it would cost for a new one if the warranty has expired.
How to avoid errors while using an indicator
When measuring, whether calibrating or doing work on a workpiece, the tip of the indicator must come in direct and complete contact with the reference point, the surface from which the measurement is being read. The tips will wear out over time, which may in turn produce error.
While it may suffice to buy a cheap dial indicator, it is always recommended to invest in a good stand. The stand will quite literally make or break it.
Some more painless tips are:
Keep all instruments and contact surface clean
Remember to lock the dial bezel with the setscrew
Invest in quality mounts with precision fixtures
Don't over tighten setscrews on the arms or anywhere
Difference between dial indicator and dial test indicator
Dial indicators and dial test indications are seemingly identical dial gauges in both appearance as well as general uses. But a closer look will revel several significant distinctions.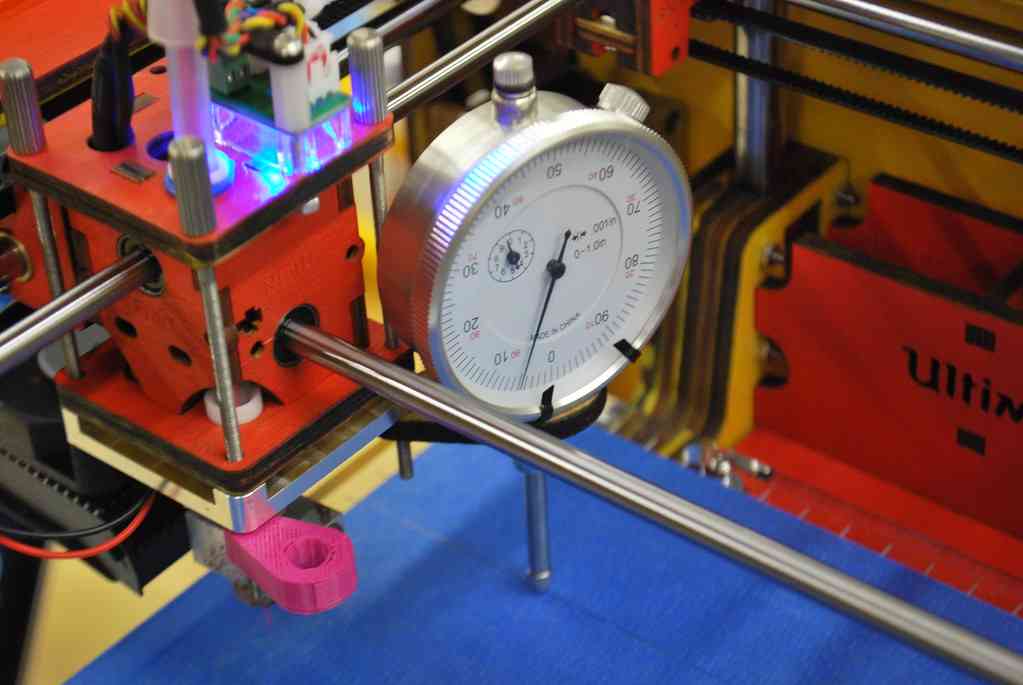 A dial test indicator is essentially a compact version of the dial indicator. The main difference is that on a dial indicator, the probe is mounted on a vertical spring-loaded shaft called the plunger. Whereas the probe on a test indicator pivots vertically on an articulating lever. This kind of mechanism allows most test indicators the ability for measurements to be taken from both the top and bottom of the probe.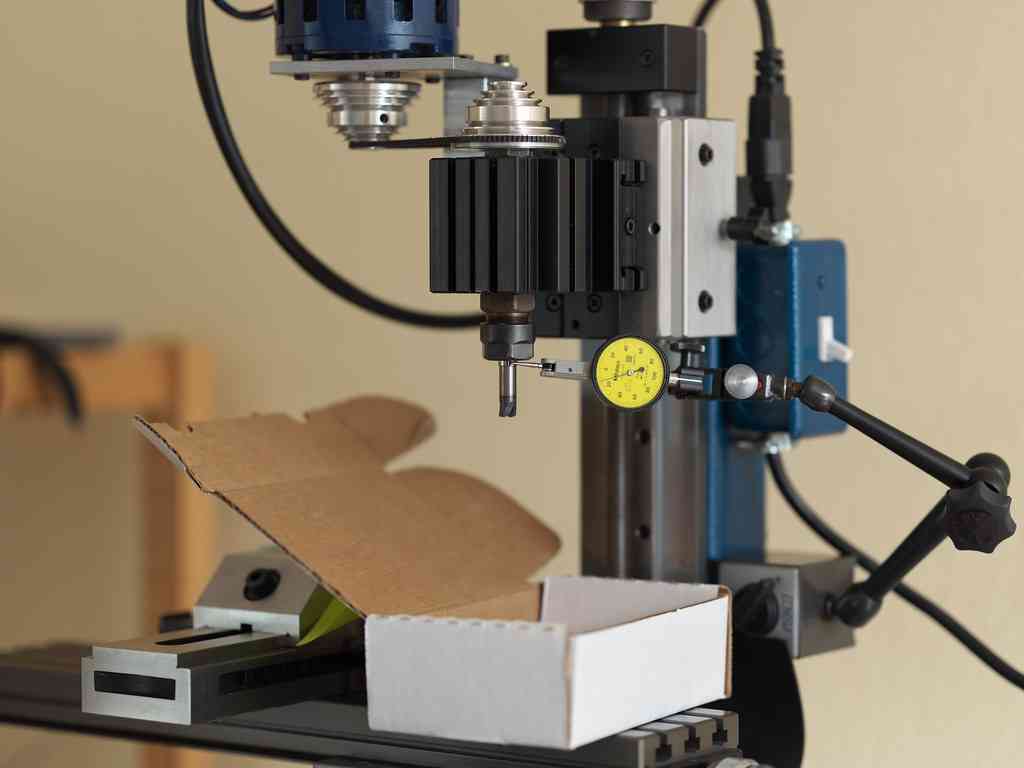 The range of motion is relatively less on a test indicator. However, difference in use cases between both instruments can be a bit fuzzy. They are both generally used to make comparative measurements.
What sets test indicators slightly apart is their efficiency in repeated measurements. Test indicators are also better for measuring relative surface flatness. Because test indicators are more compact, that makes them ideal for machine setup work and other measurements.
Most common uses of dial indicators
Dial indicators, as complicated as they may seem, are just rudimentary dial gauges. Very similar to an old analog body weight scale, except many times more precise.
As mentioned previously, indicators are most commonly known as comparative gauges. What this means is that, a part with a known dimension is used to affix the indicator. So, the indicator is oriented tangential to the parts predetermined measurement.
Then subsequent parts or particular features of the same dimension can move to and from the fixture. This allows us to compare differences between the known and the unknown dimensions. Very much like a template so to speak.
Dial indicators are often used to measure height, flatness, roundness and sometimes straight lines. While this may not be the most ideal application, straight lines can be measured with the help of additional fixtures. The most common use of a dial indicator in a machine shop is measuring the runout of a lathe spindle.
What is a magnetic base dial indicator?
There are loads of variations for the dial indicator. Each of the different variations were designed to efficiently perform a very distinct task. A magnetic base dial indicator, however, is the same variation as the most conventional dial indicators.
Generally, every aspect of the dial indicator stays the same. Several methods of attachment exist for indicators. The magnetic base is merely an efficient method of fastening.
The base of most indicators will rest on any flat horizontal surface while measurements are recorded. Magnets are added to the base assembly for fastening the indicator at different orientation.
Tool makers create clever clamping mechanisms to mount the instrument on various surfaces so that not only does it clamp on odd shapes, but also fasten securely enough to avoid deflection.
Magnetic base dial indicators are often preferred for their convenience and efficiency.