Many home users of 3D printers over time feel a want or even a need to provide better enviroment for their 3D printing processes. But, as with any manufacturing unit, there are a number of considerations in addition to just the space required for the equipment and the materials.
Things to consider with a printer for garage use
If you have yet to purchase a printer for your workshop, it a good idea to consider the following specs for printing in a partial outdoor environment.
Strong power supply: If the printer will be in location that is cold year-round or a place that experiences freezing winters, the printer will require a lot of juice to heat up at a reasonable amount of time. Having a strong power supply and a fast heating printer will make printing much easier.
Active cooling: Fast and efficient cooling is as important as snappy heating of material and build surface. In hot summer days, a printer may struggle to keep cool which will reflect in the quality of prints.
Safety features: safety features like thermal runaway becomes more critical in a less controlled environment.
Dependability and maintenance of a garage stored 3D printer
3D printers are sensitive electronic equipment that need proper protection as well as maintenance and cleaning over time. This requires space, as well as isolation from any would-be inopportune affects.
3D printers have a finite threshold of ambient operating temperature. Too hot, and the electronics and motors begin to overheat and malfunction. Too cold, and the safety mechanism kicks in and shuts the device down.
The filaments or liquid resins, on the other hand, just ask to be put away in cool, dark and dry places; like a closet or a large enough cabinet with some silica gel packets. These printing materials do, however, need to be provided the right ambient conditions for producing 3D prints of optimal resolution and strength. Too high a temperature may lead to parts deforming, whereas too low a temperature would lead to warping and delamination between print layers. And in case of resin based printers, unsuitable temperatures will lead to improper curing, leaving either a poor quality print, or a mostly uncured one, neither of which is desirable.
Before setting up a 3D printing workshop
When any 3D printing enthusiast wishes to utilise his or her 3D printer for more than just casual use, the garages, to most home owners as well as shared accommodation residents with access, become the de facto location. It is indeed an ideal choice as opposed to the bedroom, corner spare room, or any other location within the house.
That is until they come out with a new printer that unfolds and prints an extension to our existing home. See our definitive guide to 3D printed houses (with pictures).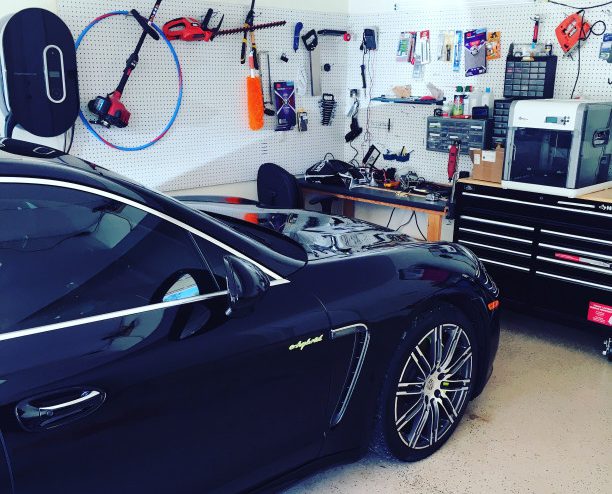 But first, some basic requirements need to be established for building or furnishing out a 3D printing workshop in your garage:
Consider how much space you would actually need. This includes the 3D printer, the filaments, or resin bottles, the laptop, cables, your "work-bench" for post-processing as well as a dedicated space for maintenance and maintenance-related gear.
Figure out how much time you would be spending in you the new workshop. If for example, someone were considering setting up a workshop for business purposes, then they would be spending considerable hours every day inside their new workshop. The workshop then needs to provide both the right amenities (fridge or icebox, air purifier, washroom or toilet access) as well as proper ventilation and enough clean air circulation so that the harmful emissions of the 3D printers do not become pronounced.
Consider the existing safety features, as well as the cost of installing the essentials like a fire extinguisher, additional vents, and a safe exit or at the very least, a clear path to the main exit or closest washroom if there is only one.
If motor vehicles are actively parked and removed from the garage, the likelihood of which is of course, extremely high…Then how much separation can be practically provided to the entire 3D printing space from the vehicles along with their related tools and equipments. Ideally, there should be a practical way to seclude the two from each other.
Attached versus detached garages
Practicality-wise, attached garages provide easier reach to all amenities since the main home is literally through a door, they also have the added benefit of access to all the utilities – heating, lighting, power – of the main house.
One possible drawback is the noise, more for FDM than Resin-based 3D printers. Further, the ease-of-access to the garage also means that it would be difficult to properly isolate or separate the 3D printer or printers from family members, housemates, or even energetic pets, jeopardizing the safety of both the equipment as well as the persons and/or pets.
Similarly, while a detached garage would probably need additional wiring, lighting and/or heating arrangements, its isolation and separation from the main house would be a benefit both for safety reasons as well as for providing a much more controllable workspace for the user.
A detached garage may require addition insulation to mitigate cold temperature in winter seasons. Most detached garages typically lack air conditioning and heating, some even insulation.
Configurating for external use
In most cases, printing in a garage will be no different than printing inside closed quarters within a home. Things like humidity may become more noticeable. One may encounter more problems with filament quality overtime. The printer is controlled by onboard software that can adapt to the environment its in.
In some unique cases, you may find that your favourite print profiles and printer settings are not as effective when printing in sub exterior spaces. Printing different material may require further tuning to find the perfect configuring once again. In severally cold weather, or while printing high temperature materials, there may be a need to disable cooling as some printers may struggle to maintain a good temperature. Things can be more erratic and less controlled. Seasonal changes may call for different configurations. After a few rounds of printing in the same environment, everything will start to make good sense.
Setting up the workshop
Let's assume that the garage has either fulfilled the requirements mentioned above, or it is your only option anyway for placing the 3D printer. In either case, the set-up is honestly as simple as it could possibly be.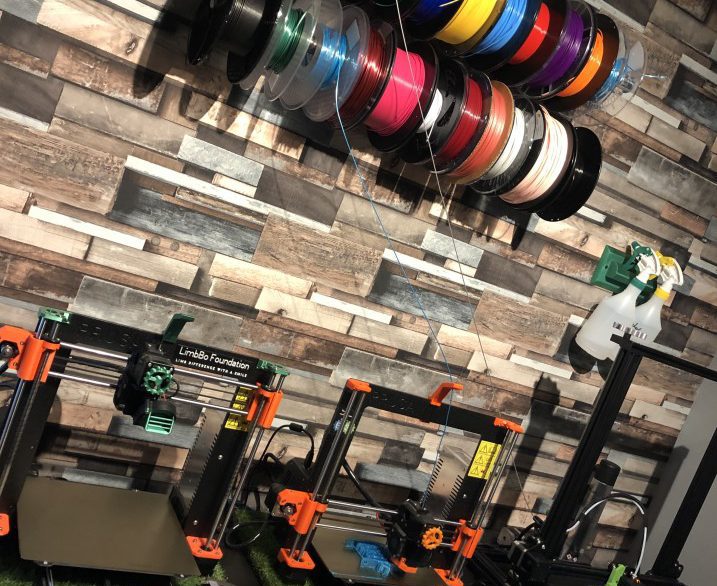 Provide a properly secure and stable surface for your 3D printer or printers;
set yourself a workbench to place your laptop and a place to perform post-processing of the 3D printed parts;
and finally, set-up or move your storage arrangements for the printing materials.
Additionally, make sure to have a nice safe spot to place your 3D printer maintenance gear. If you are using a resin-based 3D printer, remember to secure the 3D printer in a leakproof dish (to avoid any liquid resin spilling out from the inner vat in case of a failure in the 3D printer) as well as to invest in some chemical resistant vats for washing off uncured resin from the printed parts.
Now if the garage already has adequate heating, cooling, and ventilation arrangements. You can simply set the thermostat right, turn on the exhaust for some fresh air, and get to work. If it doesn't however, then a little bit more work would be required to make sure your 3D printing workshop is set for the long haul.
Ambient temperatures and their effects
Consistent temperature control is key to maintaining both good health of your 3D printers as well as to ensure optimal print quality in terms of resolution as well as part strength.
All 3D printers have a baseline minimum temperature to properly function. For extrusion-type 3D printers, the baseline is quite low at around 50°F (10 °C) for the machines themselves. However, practically no filament would produce useable quality 3D prints at such a low temperature.
PLA is the easiest filament to print with. It can produce good quality with no noticeable warping or delaminating with temperatures as low as 59 °F (15 °C). Other higher temperature filaments such as HIPS, PETG and ABS require suitably higher ambient conditions, at least standard room temperature of 77°F (25 °C) or higher for trouble free printing and ideal print quality.
While resin printers are not affected as much as FDM/FFF, that is only true to an extent. All resins have an ideal print temperature for curing correctly. While most resin-based printers nowadays have automatic heat control built in, if yours doesn't, then a heated enclosure or a direct heating mechanism will be your only option to ensure good print quality.
Lastly, no 3D printer likes to print when it is too hot. 3D printers generate a fair amount of heat on their own, and if ambient temperatures reach around 104°F (40 °C) or higher, then expect your equipment to overheat and/or malfunction without adequate cooling.
3D printer enclosures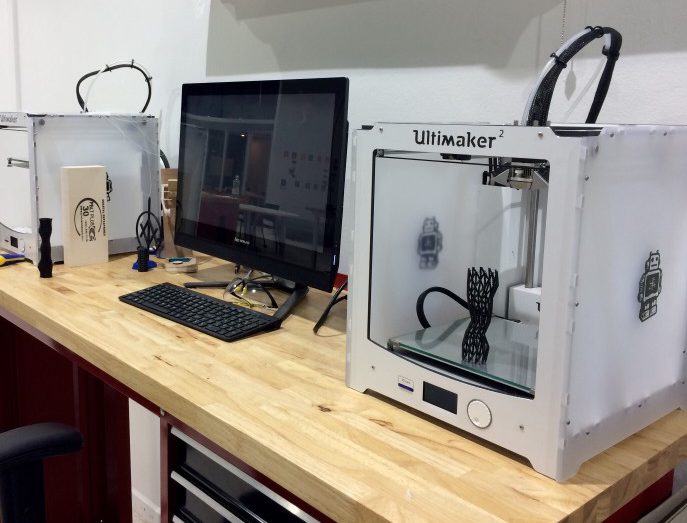 A long-term method for ensuring the safety of your 3D printer as well as higher and more controllable print quality, is to build an enclosure around the printer. At its simplest, an enclosure is simply a box or similarly shaped container to securely place your 3D printer in.
Ideally, however, you will want to consider:
Adding temperature control either through a separate heater and cooler placed inside. You can also build an inward vent with a temperature gage so that you can feed hot air into the enclosure in the winter, cold air in the summer, or as required by the current print job.
Making sure that you have easy and quick access in case anything goes wrong
Making the enclosure out of fire-resistant material
Adding an outward exhaust with a HEPA or Carbon filter to vent out any toxic fumes and UFPs, ideally this should be towards an open window and NOT within the garage itself. Another option is to build a filtration system to filter the air as it escapes the exhaust system. This one is tricky, even in theory but entirely possible.
Equipment should place away from direct sunlight
Building a 3D printing workshop is inevitable for anyone whose interest in 3D printing can be classified as more than a "casual hobby". A garage is a great place to start off with, and as long as your 3D printers, materials and everything in-between can last in those confines, then more power to you.
Just remember to keep the temperature cosy, ventilation on, and everything away from sunlight for high quality and consistent printing. And an enclosure will provide greater overall control. Happy Printing!